Welcome Home to Temple Adat Shalom
Welcome Home!
Welcome to your spiritual home.
Come Celebrate Shabbat with us, or
Watch Streaming Shabbat Services
When you support Temple Adat Shalom on Giving Tuesday, November 27, you ensure Reform Jews in San Diego North County Inland have a spiritual home as well as a source of Jewish education and community, and you support the vital work of our congregation. Your donation can be matched if you make it through this link.
***************
Watch Rabbi David's Rosh Hashanah Sermon
Join us for services that are traditional enough to be comfortable, but modern enough to be meaningful and engaging.
Prospective Members Learn More Here
Welcome to your home for Jewish education.
The synagogue is "where Jews are made," and we offer a full range of educational opportunities, for everyone from infants and toddlers to seniors! Whether you are new to Judaism or Jewish learning, or whether you are an experienced scholar, Temple Adat Shalom is the place to learn!
***
The Nest Infant-Toddler Center
Families with children from 6-week-old infants to preschoolers will find a warm and nurturing environment. Our developmentally appropriate, play-based curriculum ensures that children grow emotionally, socially, cognitively, and academically, and are prepared for kindergarten by the time they finish preschool. Our multi-lingual, highly trained staff ensure that you and your child feel at home from the moment you walk through our doors.
Registration for the 2018-2019 School Year is Open
Click here for forms
Mosad Shalom, our award-winning religious school, teaches children from kindergarten through high school, and incorporates a rich curriculum that builds literacy in Judaism and Hebrew. Youth groups give youngsters the opportunity to make Jewish friends, socialize, and engage in community service projects. The popular Jewish Heritage trips with Rabbi David broaden students' understanding of the Jewish world beyond San Diego.
From Torah study to guest speakers to Havdalah and a movie programs, we offer a full range of educational opportunities for adults. Study a variety of topics with Rabbi David over the course of the year, or even learn Israeli Folk Dancing! Adult Education offerings cover a range of topics--spiritual, cultural, and intellectual.
Welcome to your home for community and socializing.
Temple Adat Shalom is a place to make life-long friends--it won't take long before you'll feel that sense of family that keeps our congregants here from generation to generation. Our active Sisterhood, Men's Club, and Senior groups offer a tremendous variety of ways to engage and be involved. Interfaith couples and families are welcome here, and make up a significant part of our congregation. If you are looking for that sense of belonging that can be so hard to find these days, come to Temple Adat Shalom!
Welcome to your home for Tikkun Olam.
(Healing the World)
One of the most important reasons to join a synagogue is for the opportunity to make a difference in the world. In Judaism, our reason for being is to help make the world a better place, and at Temple Adat Shalom, there are opportunities to do just that all year long. Based on the pillars of Education, Advocacy, and Action, our Action for Social Justice Committee organizes programs to help us fulfill the sacred imperative to heal the world. Participate in one project or all of them--you can help heal the world, too!
***
Read our Bi-Monthly Newsletter
The Shofar
***
Support Your Jewish Home in San Diego's
North County Inland Region
***
I Have Questions; Do You Have Answers?
(FAQs)
***
Visit us at 15905 Pomerado Road, Poway, CA 92064
Call us at 858.451.1200
Email: info@adatshalom.com
Prospective Members email: membership@adatshalom.com
Wed, November 21 2018
13 Kislev 5779
Friday Night
Erev Shabbat Service

: 7:00p
Shabbat Day
Morning Shabbat Service

: 10:00a
Upcoming Programs & Events
---
Erev Hanukkah
View Calendar
Chanukah and Chai Member Shabbat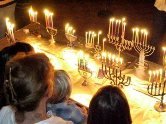 Friday, December 7
at 7:00 pm
Bring your Chanukah menorah and candles, and join your congregation in celebrating the Festival of Lights. We'll also celebrate the guiding lights of our congregation, Chai members who have belonged to Temple Adat Shalom for 18 years or longer!
TAS Chanukah Party
Sunday December 9
at 4 pm

Rabbi David and Cantor Lori will share Chanukah stories and songs and lead candlelighting, with a light latke supper, crafts, and games following. Fun for the whole family!
Beer & Blessings
Saturday, December 15, 6:30 pm


"Home Brewing with Allan Rozenberg"
Come share a fun Saturday evening (or three) with your friends at TAS. Enjoy a sampling of beers, good food and friendship, as well as an informative presentation by a special guest speaker, and a drash by Rabbi David Castiglione.
TAS Raffle
Win a fantastic vacation by participating in our raffle!
Drawing will take place the last day of Chanukah! Winner need not be present.
TAS Mission Statement
Temple Adat Shalom is a welcoming, inclusive Reform Jewish community, within which Torah, friendship, tikkun olam, social justice, and education are central to our personal, spiritual, and communal growth.
Contact Us
Temple Adat Shalom
858.451.1200
Wed, November 21 2018 13 Kislev 5779