Spiritual Life
Spiritual Life

At Adat Shabbat services, our children bring the light of the Sabbath to each table!
At Temple Adat Shalom we worship in the Reform tradition--rooted in the ancient rituals of our people, yet enhanced by contemporary approaches and forms. A broad range of musical sources, participation by our members, singing by our adult and junior choirs, klezmer style music from our Simchat Shabbat Band, lively family celebrations, and personal and intimate life cycle commemorations strengthen us in spirit and community.
We enjoy great variety within our services; some services are quite traditional, others are more creative and modern. For example, we offer both traditional and contemporary Rosh Hashanah services, and more recently, we have updated our Yom Kippur Afternoon services, to allow our focus to transition from themes of repentance for past mistakes, to a renewed commitment to doing better.
Music is an important part of our worship. We have an adult choir, a klezmer-style band called the Simchat Shabbat Band, a Teen Band, a men's barbershop ensemble called The Menschtones, and a junior choir. If you would like to know more about participating in our music programs at Temple Adat Shalom, please email Cantor Lori Frank or call her at 858.451.1200.
Our Sisterhood and Men's Club Shabbat services, as well as Shabbat services sponsored by one of our committees may be a complete change of pace from the usual liturgy, or simply incorporate elements that speak to the mission of those groups. We love when Cantor Frank travels, because she often brings us new melodies and songs to enliven our worship.
All of our Shabbat services and most other services are followed by a festive oneg of sweet treats and warm fellowship. Guests are always welcome.
SHABBAT
Erev Shabbat Services: Friday evenings at 7:00 pm, September through June
Click here for our Streaming Services.
From September through June, Erev Shabbat services begin at 7 pm and are held in the Marcus Sanctuary. The first Erev Shabbat service of the month is especially family-friendly, and includes special blessings for our children and for those celebrating birthdays, anniversaries, and other simchas during the month. Our Simchat Shabbat Band provides lively and uplifting klezmer music during one service each month, and once each month we observe a meditative Shabbat Neginah, filled with beautiful, inspiring music.
Adat Shabbat Services: Bi-Monthly, September through June (6:00 pm for Dinner; 7:00 pm for short service only)
For a warm and inviting Shabbat-around-the-dinner table experience, Adat Shabbat services take place in our social hall beginning at 6:00 pm, bi-monthly from September through June. The service includes a Shabbat dinner highlighted with joyful songs, prayers, and interactive participation. Bring your family, bring your friends; this is a service you won't want to miss! For those not inclined to join us for dinner, a very brief service including the Mourner's Kaddish follows the dinner. Reservations for the dinner are required by the Wednesday before Adat Shabbat so that we can ensure there is enough food, and voluntary donations to cover the cost of the meal are greatly appreciated. Check our calendar to confirm the dates of our Adat Shabbat services.
Summer Courtyard Services: Throughout July and August (Wine and Cheese at 5:45 p.m.; Service at 6:15 p.m.)
Brief, easy-flowing and inspiring worship services in our open-air courtyard under our beautiful tree, as the sun slowly sets. Enjoy a snack and a schmooze with friends before services, and stay for a festive oneg after services. During July when our Rabbi is on vacation, our congregants offer thoughtful Words of Torah during each service. Come as you are and enjoy a peaceful respite from the week's work.
Tot Shabbat Services: Monthly (Friday 5:30 p.m. or Saturday at 5 pm including Havdalah)
At all Tot Shabbat programs children actively participate in this most child-friendly of services, designed to teach even the youngest children about the joy of Shabbat. Lasting about 30 minutes, the service is led by our clergy or one of our early childhood specialists.
Our Friday Evening Tot Shabbat services are followed by either an Adat Shabbat family-friendly dinner service, a voluntary donation-supported child-friendly dinner, or a potluck dinner. Tot Shabbat Havdalah nights may include a pajama party, a dance party, or other fun program! Invite your friends - Tot Shabbat is open to all. Temple membership is not required, and families are welcome to participate whether or not their children are enrolled in our Early Childhood Programs. Check our interactive calendar for dates.
Shabbat Morning Services
Saturdays, 10:00 a.m. - 12:00 p.m. (B'nai Mitzvah)
Services that include B'nai Mitzvah invite our students to lead the majority of the liturgy. The setting is more formal, but services are always open to our entire congregation and community.
Saturdays, 10:00 a.m. - 11:30 a.m. (No B'nai Mitzvah)
Services that do not include B'nai Mitzvah are led by our clergy in a casual and more intimate yet still traditional style. The liturgy is a bit fuller, we read and study from the Sefer Torah and engage in interactive Divrei Torah led by the Rabbi or a regular service participant. There are many opportunities to participate in the service for those who choose to do so.
Wed, November 21 2018
13 Kislev 5779
Friday Night
Erev Shabbat Service

: 7:00p
Shabbat Day
Morning Shabbat Service

: 10:00a
Upcoming Programs & Events
---
Erev Hanukkah
View Calendar
Chanukah and Chai Member Shabbat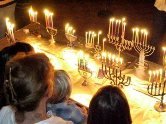 Friday, December 7
at 7:00 pm
Bring your Chanukah menorah and candles, and join your congregation in celebrating the Festival of Lights. We'll also celebrate the guiding lights of our congregation, Chai members who have belonged to Temple Adat Shalom for 18 years or longer!
TAS Chanukah Party
Sunday December 9
at 4 pm

Rabbi David and Cantor Lori will share Chanukah stories and songs and lead candlelighting, with a light latke supper, crafts, and games following. Fun for the whole family!
Beer & Blessings
Saturday, December 15, 6:30 pm


"Home Brewing with Allan Rozenberg"
Come share a fun Saturday evening (or three) with your friends at TAS. Enjoy a sampling of beers, good food and friendship, as well as an informative presentation by a special guest speaker, and a drash by Rabbi David Castiglione.
TAS Raffle
Win a fantastic vacation by participating in our raffle!
Drawing will take place the last day of Chanukah! Winner need not be present.
TAS Mission Statement
Temple Adat Shalom is a welcoming, inclusive Reform Jewish community, within which Torah, friendship, tikkun olam, social justice, and education are central to our personal, spiritual, and communal growth.
Contact Us
Temple Adat Shalom
858.451.1200
Wed, November 21 2018 13 Kislev 5779