Men's Club
Click here

to pay your annual dues.
UPCOMING EVENTS
TAS Men's Club Picnic Barbeque
Carmel Mountain Ranch Community Park
10152 Rancho Carmel Drive, San Diego
Sunday, October 10, 2021
11:00 a.m. - 1:00 p.m.
We have missed seeing you in person! Let us come together to welcome a new year and celebrate our community!
This complimentary BBQ Picnic is open to the entire Temple membership, thanks to the wonderful sponsorship of a generous Men's Club Board member.
Enjoy hamburgers, hot dogs, vegetarian burgers, drinks and all the accoutrements. Donations are welcome.
We will have games and opportunity to enjoy and reacquaint with each other. At this time masks are recommended. We encourage you to social distance. Everyone should bring his own lawn chair.
CLICK HERE to RSVP how many from your family will attend (and food order) so we can plan accordingly
For more information, contact Steve Reitman by email at stevereitman@yahoo.com
Previous Events
Go to a Padres Game on Jewish Community Day with the Men's Club on 8/22/2021
Sunday, August 22, 2021 • 14 Elul 5781
Game starts at 12:40 PM at Petco Park
Join the Men's Club in rooting for your favorite team (Padres or Phillies) at Petco Park on 8/22/2021 at 12:40 p.m. It is Jewish Community Day so the Jewish-themed cap is part of your admission.
Men's Club Man of the Year 2019-2020
Brett Litoff
The Temple Adat Shalom Men's Club is very proud to announce that Brett Litoff has been voted 2019-2020 Man of the Year by its leadership. Brett Litoff is most deserving of the honor, and follows in footsteps of many movers and shakers before him.
Brett serves on both the Temple and Men's Club Boards. Currently, he serves as the Membership Chair of the Men's Club where he is responsible for engaging men in the important work we do on behalf of the Temple and community. He volunteers to help with our famous Men's Club brunches and is instrumental with the success of our Purim Carnival. As our Youth liaison, he identifies opportunities to help our schools. For the Temple, he serves as a Vice President, Special Projects and sits on the President's Council to help future visioning. He is a dedicated Blue Crew team member helping keep Temple Members safe. He is a veteran Temple Purim Shpiel actor, Food Festival volunteer, and you name it...Brett is there to serve and be helpful.
In asking Brett about why he is involved in Men's Club, he responded:
Men's Club is important to me because I value supporting Judaism locally and in a way that immediately impacts my family. I love how we all come from different places professionally, politically, philosophically and religiously to support the common goal of supporting the temple.
The members of our Men's Club don't just get together to socialize and have fun--we are deeply connected to our broader temple community as well as our local and global communities. In addition to raising funds that enable our teens to participate in Jewish Heritage Trips with Rabbi David, it is Men's Club volunteers who plan and put on our congregation's annual Purim Carnival, that brings the joy of Purim to children of all ages.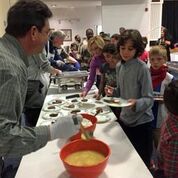 Our Men's Club volunteers are latke makers extraordinaire for the religious school's Chanukah celebrations. The special connection between the Men's Club and our religious school students is evidenced by the traditional gift of the Torah book made by the Men's Club to every b'nei mitzvah student. It is a Men's Club representative who introduces each b'nei mitzvah student to the congregation at Erev Shabbat services on the eve of each b'nei mitzvah.
Our annual Men's Club Shabbat not only enables many of our members to help lead the congregation in worship, but also includes the highlight of over a dozen men reading Torah during the service.
Our TAS Men's Club is known throughout the Reform Movement as one of the most active and engaged Men's Clubs in the country. Come to a monthly brunch and enjoy great food, an engaging and provocative speaker, and the lively company of 80-100 Jewish men.
Our annual Family Camping Trip is a Temple Adat Shalom favorite, drawing experienced and novice campers alike to enjoy the beauty of the outdoors along with delicious meals and fun activities, all provided by the Men's Club.
You won't want to miss our annual Men's Club Pizza Night. It was previously called a Seder (but not a Passover seder) so we changed the name to avoid any confusion. This is where we get a chance to discuss the modern plagues we face as men, in a supportive and friendly environment.
Men's Club members play an instrumental role in our congregation's social action initiatives, participating in blood drives, volunteering to help feed the homeless at Christmas time, and more.
Additional programs sponsored by the Men's Club throughout the year may include White Water Rafting, Comedy Night, a Family Hoe Down, and more.
Membership is open to all male congregants of Temple Adat Shalom or any other Jewish congregation. Your membership dues get you free admission to our monthly brunches, though membership is not required to attend the brunches or any other Men's Club program. Members receive discounts on most of the Men's Club events.
Here is an brief overview given on 6/28/2020 by the Men's Club Immediate Past President, Mark Molbegott for the TAS Annual Congregational Meeting describing the Men's Club events for the 2019-2020 fiscal year:
Click here to see the video presentation
For more information, please contact: Men's Club Membership. To download the Membership Application, click here and please follow the instructions at the bottom. The 'Submit Form' button is currently disabled.
Tue, September 21 2021
15 Tishrei 5782
Don't miss our monthly brunches!
Since the outbreak of the COVID pandemic, we have been holding wonderful virtual speaker programs by Zoom. We will continue this format until we can join together in person. Our programs are open to the entire community.
Occasionally, we will be offering free home delivered bagel breakfasts to Men's Club members who have paid their 2020-21 dues prior to the Zoom program. Spouses/guests of Men's Club members can get the same delicious breakfast by paying an additional charge of $10 per breakfast.
Want a taste of what we do? Click here to access our archives--including photo, video & bylaws.
Today's Calendar
---
Shabbat Day
Saturday Morning Shabbat Service - Bat Mitzvah of Maggie Burger

: 10:00am
Upcoming Programs & Events
---
Sukkot
View Calendar
TAS Mission Statement
Temple Adat Shalom is a welcoming, inclusive Reform Jewish community, within which Torah, friendship, tikkun olam, social justice, and education are central to our personal, spiritual, and communal growth.
Tue, September 21 2021 15 Tishrei 5782