Men's Club
The members of our Men's Club don't just get together to socialize and have fun--we are deeply connected to our broader temple community as well as our local and global communities. In addition to raising funds that enable our teens to participate in Jewish Heritage Trips with Rabbi David, it is Men's Club volunteers who plan and put on our congregation's annual Purim Carnival, that brings the joy of Purim to children of all ages.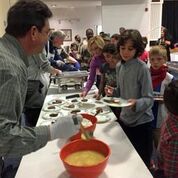 Our Men's Club volunteers are latke makers extraordinaire for the religious school's Chanukah celebrations. The special connection between the Men's Club and our religious school students is evidenced by the traditional gift of the Torah book made by the Men's Club to every b'nei mitzvah student. It is a Men's Club representative who introduces each b'nei mitzvah student to the congregation at Erev Shabbat services on the eve of each b'nei mitzvah.
Our annual Men's Club Shabbat not only enables many of our members to help lead the congregation in worship, but also includes the highlight of over a dozen men reading Torah during the service.
Our TAS Men's Club is known throughout the Reform Movement as one of the most active and engaged Men's Clubs in the country. Come to a monthly brunch and enjoy great food, an engaging and provocative speaker, and the lively company of 80-100 Jewish men.
Our annual Family Camping Trip is a Temple Adat Shalom favorite, drawing experienced and novice campers alike to enjoy the beauty of the outdoors along with delicious meals and fun activities, all provided by the Men's Club.
You won't want to miss our annual Men's Club Pizza Night. It was previously called a Seder (but not a Passover seder) so we changed the name to avoid any confusion. This is where we get a chance to discuss the modern plagues we face as men, in a supportive and friendly environment.
At our Man of the Year dinners we honor our most active volunteers, lately in the form of a hilarious, not-to-be missed Roast. Additional programs sponsored by the Men's Club throughout the year may include White Water Rafting, Comedy Night, a Family Hoe Down, and more.
Men's Club members play an instrumental role in our congregation's social action initiatives, participating in blood drives, volunteering to help feed the homeless at Christmas time, and more.
Membership is open to all male congregants of Temple Adat Shalom or any other Jewish congregation. Your membership dues get you free admission to our monthly brunches, though membership is not required to attend the brunches or any other Men's Club program. Members receive discounts on most of the Men's Club events.
For more information, please contact: Men's Club Membership. To download the Membership Application, click here and please follow the instructions at the bottom. The 'Submit Form' button is currently disabled.
Click here to pay your annual dues.
Sat, October 31 2020
13 Cheshvan 5781
Friday Night
Erev Shabbat Service. LIVE STREAM ONLY

: 6:00p
Upcoming Programs & Events
---
Erev Hanukkah
View Calendar
TAS Mission Statement
Temple Adat Shalom is a welcoming, inclusive Reform Jewish community, within which Torah, friendship, tikkun olam, social justice, and education are central to our personal, spiritual, and communal growth.
Sat, October 31 2020 13 Cheshvan 5781