Interfaith and Conversion Programs
Interfaith and Conversion Programs
At Temple Adat Shalom, we welcome with open arms and open hearts interfaith couples and families and those in the process of converting to Judaism. If you are interested in exploring Judaism and the Jewish community, we offer programs, resources, and helpful information for you to use. Whether or not you are interested in conversion, if you are a non-Jewish member of an interfaith couple or family we welcome you as an integral part in our congregational life. We embrace non-Jews as friends of the Jewish people whether or not they are interested in conversion.
Here are links to our favorite resources for interfaith couples and families as well as those who are considering or in the process of adopting Judaism as their faith, or those who are just curious about Judaism and want to learn more.
Our goal is to provide an open and supportive environment that helps people develop a comfortable relationship with Judaism and make Jewish choices. Our programs serve the needs of
Interfaith couples and families

Couples considering interfaith marriage

Jews-by-Choice

Unaffiliated individuals interested in Judaism

Relatives of interfaith couples

Any and all who are concerned about Jewish values and traditions.
Each year we offer Introduction to Judaism classes and other classes that are accessible to beginners, a Chanukah celebration that is fun for the whole family, and more! Check our interactive calendar to see what's coming up!
We are also a proud member of the Poway Interfaith Team (POINT)! This organization of local faith communities puts on programs throughout the year to encourage understanding and cooperation between our various faiths.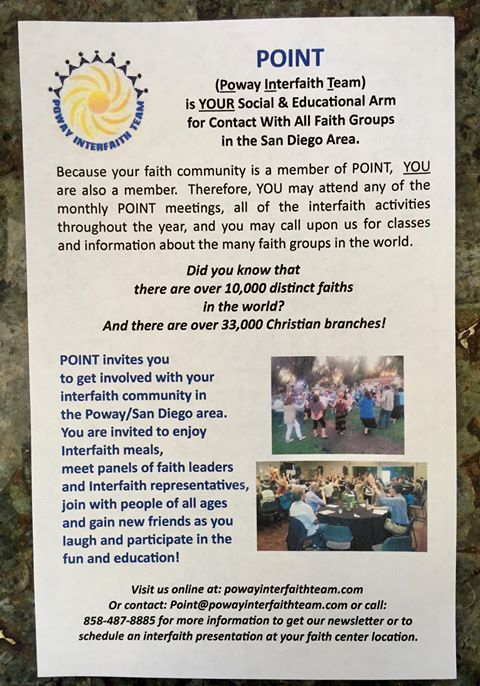 Thu, September 19 2019
19 Elul 5779
Today's Calendar
---
Friday Night
Erev Shabbat Service

: 7:00p
Shabbat Day
Upcoming Programs & Events
---
Erev Rosh HaShanah
View Calendar
Adat Shabbat
Friday, September 13
6:00 pm
Enjoy the beauty of Shabbat and a delicious catered dinner, in this family-friendly, interactive service.
Approaching the Days of Awe
Monday, 9/16 and 9/23
7:00 to 8:30 pm
Please join Gedalyahu Wittow as he leads us in exploring the concepts of Teshuva and Forgiving. Learn from the lessons of our sages, traditions and prayers, and examine how we might apply those teachings to our lives today.
Please register here.
Selichot Program Presented by Yale Strom
Saturday, September 21
7:30 pm
Featuring Klezmer violinist Strom's documentary film, "A Great Day on Eldridge Street", followed by a question-and-answer period, and concluding with Strom in concert with bass player, Gunnar Biggs. After a dessert reception, Rabbi Castiglione and Cantor Frank will lead us in a Selichot service with prayers for healing. Open to all.
Bereavement Support Group
3rd Monday of the month, beginning October 21
7:00 to 8:30 pm
Faciliated by Sarah Cardet, MSW, VP of Religious Practices. Call the Temple Office at 858.451.1200 if you are interested in attending.
Murder Mystery Dinner & Show
Saturday, November 2
6:30 pm
Bring your friends for a fun and entertaining evening! We'll enjoy a scrumptious catered dinner and thrilling 1920s Hollywood-themed murder mystery. Whodunit? Come to the party and find out!
Details available HERE.
The Sisterhood Gift Shop is Open
TAS Mission Statement
Temple Adat Shalom is a welcoming, inclusive Reform Jewish community, within which Torah, friendship, tikkun olam, social justice, and education are central to our personal, spiritual, and communal growth.
Contact Us
Temple Adat Shalom
858.451.1200
Thu, September 19 2019 19 Elul 5779