Safrai Gallery Art Show & Sale
Friday, February 22, 2019
•
17 Adar I 5779
9:00 AM - 2:00 PM
Fischlowitz Cultural Center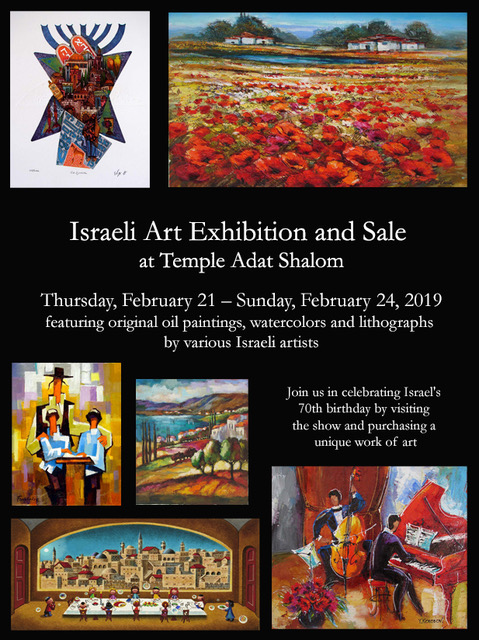 The renowned Safrai Gallery in Jerusalem is sending Temple Adat Shalom over 1,400 pieces of art created by over 100 Israeli artists, which will be available for you to view (and perhaps purchase!) in our social hall turned Art Gallery. Our Art Gallery will be open February 21-24.
Admission to today's showing is free of charge. Pre-register or donate for entries to the opportunity drawing below.
Click here to view artwork samples.
Opportunity drawing
Whether or not you are able to attend the Art Show, you can get a chance to win one of five lithographic drawings for a $5 donation per entry. Click here to see the drawings that will be offered!
OTHER GALLERY OPENINGS:
Thursday, February 21, 2019

• 16 Adar I 5779




7:00 PM - 10:00 PM
$10/person (includes kosher hors d'oeuvres, & beverages) - Click here to register
Saturday, February 23, 2019 • 18 Adar I 5779
7:00 PM - 10:00 PM
$10/person (includes kosher dessert and coffee) - Click here to register
Sunday, February 24, 2019 • 19 Adar I 5779
9:00 AM - 4:00 PM
Free admission - Click here to register
****
Co-sponsored by
Congregation Ner Tamid • Ohr Shalom Synagogue • Congregation Beth Jacob
Unicorn Jewelry & Watch Boutique

Sorry, Registration has ended.
Share Print Save To My Calendar
Mon, December 9 2019
11 Kislev 5780
Today's Calendar
---
Upcoming Programs & Events
---
Erev Hanukkah
View Calendar
Adat Shabbat
Friday, December 13
6:00 pm
Enjoy the beauty of Shabbat and a delicious catered dinner, in this family-friendly, interactive service.
Bereavement Support Group
3rd Monday of the month
7:00 to 8:30 pm
Faciliated by Sarah Cardet, MSW, VP of Religious Practices. Call the Temple Office at 858.451.1200 if you are interested in attending.
The Sisterhood Gift Shop is Open
TAS Mission Statement
Temple Adat Shalom is a welcoming, inclusive Reform Jewish community, within which Torah, friendship, tikkun olam, social justice, and education are central to our personal, spiritual, and communal growth.
Contact Us
Temple Adat Shalom
858.451.1200
Mon, December 9 2019 11 Kislev 5780