Education is a Life-Long Endeavor
We Jews are known as "The People of the Book" not just because of our devotion to Torah, but also for our devotion to lifelong learning. At Temple Adat Shalom, our commitment to education applies to our entire congregation, both children and adults.
For the children, education begins in our Early Education Center, including our Infant-Toddler Center and Ganon Gil Preschool. Our nationally recognized Mosad Shalom Religious School provides a firm grounding in Judaism, Jewish History, Torah, Hebrew, and Israel. Our Bar and Bat Mitzvah students lead an entire Shabbat service in celebration of their milestone achievement, and most of our students continue their studies through Confirmation and beyond. Jewish Heritage trips led by Rabbi David connect our students to Jewish sites of interest around the country, and encourage strong bonds of friendship.
Adult education ranges from learning opportunities for those who are just beginning their Jewish education, to cultural, practical, and scholarly programs led by our clergy and visiting speakers and scholars.
Jewish Learning is for Everyone!
Click here for our favorite online resources
Wed, November 21 2018
13 Kislev 5779
Friday Night
Erev Shabbat Service

: 7:00p
Shabbat Day
Morning Shabbat Service

: 10:00a
Upcoming Programs & Events
---
Erev Hanukkah
View Calendar
Chanukah and Chai Member Shabbat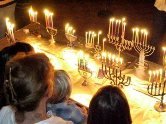 Friday, December 7
at 7:00 pm
Bring your Chanukah menorah and candles, and join your congregation in celebrating the Festival of Lights. We'll also celebrate the guiding lights of our congregation, Chai members who have belonged to Temple Adat Shalom for 18 years or longer!
TAS Chanukah Party
Sunday December 9
at 4 pm

Rabbi David and Cantor Lori will share Chanukah stories and songs and lead candlelighting, with a light latke supper, crafts, and games following. Fun for the whole family!
Beer & Blessings
Saturday, December 15, 6:30 pm


"Home Brewing with Allan Rozenberg"
Come share a fun Saturday evening (or three) with your friends at TAS. Enjoy a sampling of beers, good food and friendship, as well as an informative presentation by a special guest speaker, and a drash by Rabbi David Castiglione.
TAS Raffle
Win a fantastic vacation by participating in our raffle!
Drawing will take place the last day of Chanukah! Winner need not be present.
TAS Mission Statement
Temple Adat Shalom is a welcoming, inclusive Reform Jewish community, within which Torah, friendship, tikkun olam, social justice, and education are central to our personal, spiritual, and communal growth.
Contact Us
Temple Adat Shalom
858.451.1200
Wed, November 21 2018 13 Kislev 5779