Education is a Life-Long Endeavor
We Jews are known as "The People of the Book" not just because of our devotion to Torah, but also for our devotion to lifelong learning. At Temple Adat Shalom, our commitment to education applies to our entire congregation, both children and adults.
For the children, education begins in our Early Education Center, including our Infant-Toddler Center and Ganon Gil Preschool. Our nationally recognized Mosad Shalom Religious School provides a firm grounding in Judaism, Jewish History, Torah, Hebrew, and Israel. Our Bar and Bat Mitzvah students lead an entire Shabbat service in celebration of their milestone achievement, and most of our students continue their studies through Confirmation and beyond. Jewish Heritage trips led by Rabbi David connect our students to Jewish sites of interest around the country, and encourage strong bonds of friendship.
Adult education ranges from learning opportunities for those who are just beginning their Jewish education, to cultural, practical, and scholarly programs led by our clergy and visiting speakers and scholars.
Jewish Learning is for Everyone!
Click here for our favorite online resources
Fri, January 18 2019
12 Sh'vat 5779
Today's Calendar
Erev Shabbat Service

: 7:00p
---
Friday Night
Erev Shabbat Service

: 7:00p
Shabbat Day
Morning Shabbat Service

: 10:00a
Upcoming Programs & Events
---
Tu BiSh'vat
View Calendar
Israeli Art Show and Sale
Thursday, February 21 through Sunday, February 24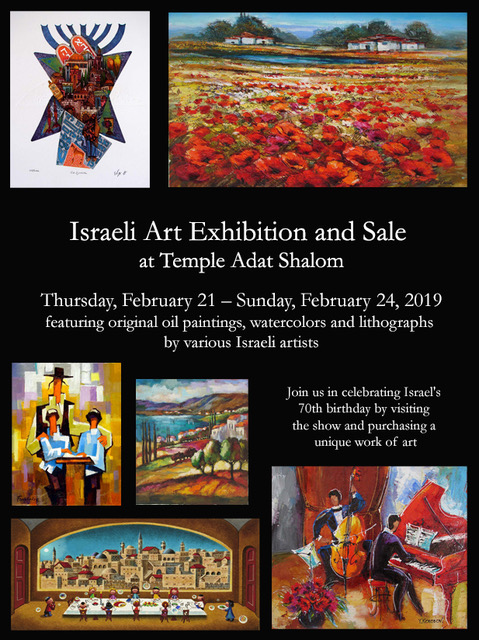 Junior Choir
The Sisterhood Gift Shop is Open
Mitzvah Day
Sunday, March 3

How many mitzvahs can one congregation do in a day? Find out on March 3! Watch this space for more details.
TAS Mission Statement
Temple Adat Shalom is a welcoming, inclusive Reform Jewish community, within which Torah, friendship, tikkun olam, social justice, and education are central to our personal, spiritual, and communal growth.
Contact Us
Temple Adat Shalom
858.451.1200
Fri, January 18 2019 12 Sh'vat 5779