End of Year Donations
An Important Message for Congregants and Friends of TAS
Dear Temple Adat Shalom Family,
Another year has gone by, and, in the past months, all of us have experienced joy and much sadness. Temple Adat Shalom has been there to help us through these spiritual and emotional events. We came together to heal and create bonds with the larger North County Inland community following the recent tragedy in Pittsburgh. Rabbi David, Cantor Lori, and our wonderful administration and amazing teachers have provided support and educational experiences for our children. Many of us have participated in numerous entertaining social gatherings and inspiring adult education programs. We watched Ganon Gil children transition into Mosad Shalom and The Nest infants and toddlers blossom as they adjust to a new phase of their lives. This is your Temple family; this is our sacred partnership.
We realize that during this last month of the year you are inundated with requests from many worthy charitable and religious organizations asking you to include them in your end-of-year giving. You have many choices. As you review these, we ask that you consider the important role Temple Adat Shalom has had for you, your family, and the larger community. Your end-of-year gift to Temple Adat Shalom will assist us in continuing to enhance and provide the exceptional offerings of Temple Adat Shalom.
Giving is core to our Jewish culture, and a gift of tzedakah (literally translated as "an act of righteousness") to Temple Adat Shalomis an important way you can make a difference in our Temple family and our world. Being a part of Adat Shalom accentuates our common connection. It affirms our common beliefs. It imparts the strength that comes from being a people bound together by our history and culture. It is from this sacred partnership that we are able to reach out to the larger community and unite with people of all cultures and religions in peace.
Please support us with your year-end, tax-deductible donation. You may donate here online, or send a check.
A very happy and healthy 2019 to you and your loved ones.
David Castiglione, Rabbi
Hannah Cohen, Co-President
Mary Klein, Co-President
CLICK HERE TO DONATE ONLINE
or
Send donations to:
Temple Adat Shalom
15905 Pomerado Rd.
Poway, CA 92064
Fri, January 18 2019
12 Sh'vat 5779
Today's Calendar
Erev Shabbat Service

: 7:00p
---
Friday Night
Erev Shabbat Service

: 7:00p
Shabbat Day
Morning Shabbat Service

: 10:00a
Upcoming Programs & Events
---
Tu BiSh'vat
View Calendar
Israeli Art Show and Sale
Thursday, February 21 through Sunday, February 24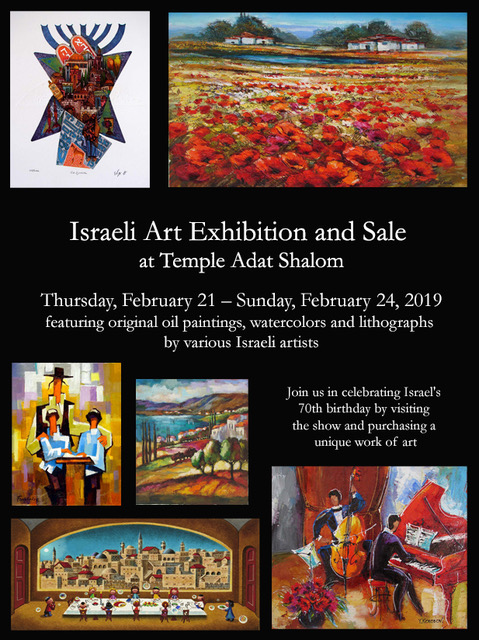 Junior Choir
The Sisterhood Gift Shop is Open
Mitzvah Day
Sunday, March 3

How many mitzvahs can one congregation do in a day? Find out on March 3! Watch this space for more details.
TAS Mission Statement
Temple Adat Shalom is a welcoming, inclusive Reform Jewish community, within which Torah, friendship, tikkun olam, social justice, and education are central to our personal, spiritual, and communal growth.
Contact Us
Temple Adat Shalom
858.451.1200
Fri, January 18 2019 12 Sh'vat 5779