Contact Us
Address: 15905 Pomerado Road,
Poway, California 92064
Telephone: 858.451.1200 (Main Line)
858.451.1200 (Mosad Shalom Religious School)
858.451.6558 (Ganon Gil Early Childhood Center)
Email: info@adatshalom.com
Clergy and Staff Contact Information
Rabbi David Castiglione:
Telephone: 858.451.1200
Email: rabbic@adatshalom.com
Cantor Lori Wilinsky Frank
Telephone: 858.451.1200
Email: cantorlori@adatshalom.com
Temple Administrator: Phil Feinberg
Telephone: 858.451.1200
Email: pfeinberg@adatshalom.com

Director of Education: Dennis Masur
Telephone: 858.451.1200
Email: dmasur@adatshalom.com
Director of Early Childhood Education: Marilyn Milne
Telephone: 858.451.6558
Email: mmilne@adatshalom.com
Youth Coordinator: Samantha Townley
Telephone: 858.451.1200
Email: youthdirector@adatshalom.com
Congregational Administrative Assistant: Eileen Marting
Telephone: 858.451.1200
Email: emarting@adatshalom.com
Clergy and Religious School Administrative Assistant: Lorraine Thall
Telephone: 858.451.1200
Email: lthall@adatshalom.com
Financial Manager: Lili Chen
Telephone: 858.451.1200
Email: Financialmanager@adatshalom.com
Facilities Manager: Frank Krolczyk
Telephone: 858.451.1200
Email: facilities@adatshalom.com

Interested in learning more about membership? CLICK HERE to request information.
Click here for contact information for our Lay Leadership.
Temple Adat Shalom is located in Poway on Pomerado Road, south of Rancho Bernardo Road and north of Camino Del Norte and Twin Peaks Road.
Directions Heading South on I-15
Exit Rancho Bernardo Road. Turn left at light onto Rancho Bernardo Road. At 5th light (about 1.2 miles) turn right onto Pomerado Road. Travel about 1.2 miles. Temple Adat Shalom is on the left.

Directions Heading North on I-15
Exit at Camino Del Norte. Turn right at light onto Camino Del Norte. At 3rd light (about 1.5 miles) turn left onto Pomerado Road. Travel about 1.5 miles. Temple Adat Shalom is on the right.
Wed, November 21 2018
13 Kislev 5779
Friday Night
Erev Shabbat Service

: 7:00p
Shabbat Day
Morning Shabbat Service

: 10:00a
Upcoming Programs & Events
---
Erev Hanukkah
View Calendar
Chanukah and Chai Member Shabbat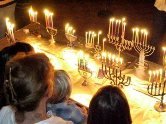 Friday, December 7
at 7:00 pm
Bring your Chanukah menorah and candles, and join your congregation in celebrating the Festival of Lights. We'll also celebrate the guiding lights of our congregation, Chai members who have belonged to Temple Adat Shalom for 18 years or longer!
TAS Chanukah Party
Sunday December 9
at 4 pm

Rabbi David and Cantor Lori will share Chanukah stories and songs and lead candlelighting, with a light latke supper, crafts, and games following. Fun for the whole family!
Beer & Blessings
Saturday, December 15, 6:30 pm


"Home Brewing with Allan Rozenberg"
Come share a fun Saturday evening (or three) with your friends at TAS. Enjoy a sampling of beers, good food and friendship, as well as an informative presentation by a special guest speaker, and a drash by Rabbi David Castiglione.
TAS Raffle
Win a fantastic vacation by participating in our raffle!
Drawing will take place the last day of Chanukah! Winner need not be present.
TAS Mission Statement
Temple Adat Shalom is a welcoming, inclusive Reform Jewish community, within which Torah, friendship, tikkun olam, social justice, and education are central to our personal, spiritual, and communal growth.
Contact Us
Temple Adat Shalom
858.451.1200
Wed, November 21 2018 13 Kislev 5779