Chanukah at TAS
Chanukah at TAS
The First Light of Chanukah is
Sunday, December 2!
Menorah Madness at our Mosad Shalom Religious School
Sunday, December 2
Kids make and bring Chanukah menorahs to begin the celebration--this year's theme is "Chanukah Matata." Clergy and teachers share Chanukah stories and songs, and everyone enjoys latkes prepared by our Men's Club volunteers. This event is for Mosad Shalom families only. For information about Menorah Madness or how to enroll your child in Mosad Shalom Religious School, email Director of Education Dennis Masur at dmasur@adatshalom.com or call him at 858.451.1200.
Infants and toddlers celebrate Chanukah in their own special way at our Nest Infant-Toddler Center and Ganon Gil Preschool! To learn more about our Infant-Toddler Center and Preschool, or to schedule a tour, contact Director of Early Childhood Education Marilyn Milne at mmilne@adatshalom.com or call her at 858.451.6558.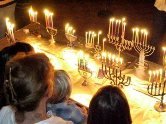 Chanukah Shabbat
Friday, December 7, at 7:00 pm
We'll be celebrating Chanukah and honoring the guiding lights of our congregation, our Chai members who have belonged to Temple Adat Shalom 18 years or longer.
Bring your Chanukah menorah and candles, and we'll all light candles together as we celebrate the light of religious freedom. A special oneg will follow.
Annual Chanukah Party
Sunday, December 9, at 4 pm
Rabbi David Castiglione and Cantor Lori Frank will share Chanukah stories and songs, and lead us in lighting our Chanukah menorahs. We'll enjoy a light latke supper, games and crafts! This party is fun for the whole family, and Temple membership is not required to participate. Please RSVP by December 5 so we have enough latkes for everyone!
Sisterhood Gift Shop
Whether you are looking for a Chanukah menorah, candles, or other Judaica, or a unique and meaningful gift, our Sisterhood Gift Shop is a great place to shop for the holidays and all year round! The shop is small, but the selection is amazing, and we can order anything you'd like at the best prices. Located in the Temple Office, more information is available here.
Fri, December 14 2018
6 Tevet 5779
Today's Calendar
Erev Shabbat Service

: 7:00p
---
Friday Night
Erev Shabbat Service

: 7:00p
Shabbat Day
Upcoming Programs & Events
---
Fast of Tevet
View Calendar
The Sisterhood Gift Shop is Open
Sisterhood Woman of the Year Dinner
Thursday, December 13
at 6:00 pm
Join us as we honor one of Sisterhood (and Temple Adat Shalom's) most tireless members, Sharon Stanford! The evening includes a scrumptious dinner, and is open to all. $25 for Sisterhood members, and $30 for non-members. Click here for more information!
Beer & Blessings
Saturday, December 15, 6:30 pm


"Home Brewing with Allan Rozenberg"
Come share a fun Saturday evening (or three) with your friends at TAS. Enjoy a sampling of beers, good food and friendship, as well as an informative presentation by a special guest speaker, and a drash by Rabbi David Castiglione.
Men's Club Comedy Night
Saturday January 5
at 8 pm

It's an annual tradition to come together for an evening of comedy, sponsored by our own TAS Men's Club!
Speaker and Lunch
Saturday, January 12
Noon
Join us for a presentation by Dr. Peter Simi in honor of MLK Day, From the Shadows to the Mainstream: Hate Groups in America .
You won't want to miss this timely and fascinating discussion. Please RSVP by January 6. Details available here.
TAS Mission Statement
Temple Adat Shalom is a welcoming, inclusive Reform Jewish community, within which Torah, friendship, tikkun olam, social justice, and education are central to our personal, spiritual, and communal growth.
Contact Us
Temple Adat Shalom
858.451.1200
Fri, December 14 2018 6 Tevet 5779